Nicki Minaj: "Of Course" We'll See a Gay Rapper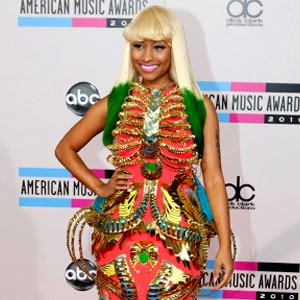 ABC/RICK ROWELL
Listen up,
50 Cent
: Before you flood our Twitter feeds with 140 character coitus-disgustingus tales of all the tail you're getting, we're not talking about
you.
So lay off the TMI crap for a sec.
But we are gossiping about gay rappers—or if we'll ever seen one, that is.
We caught up with the fab fem rapper Nicki Minaj at the American Music Awards Sunday, and—since the glam gal has drummed up more attention to the hip-hop LGBT community than any act of late—we had to ask if she thought we'd see a homolicious rapper on the scene anytime soon:
"Of course, of course!" Nick gushed to us.
So what do we have to do? That is, to make it OK to spit some rhymes about pimping a penis?
"I think we just have to be open-minded," said Nicki, who's left tongues wagging with her seemingly ambiguous sexuality—she talks about smooching "bad bitches" and giving love to the fellas, but never clarifying exactly which way she swings.
"You know, we have to do what we do, and not worry about what they accept."
Got that, Fiddy?
'Cause remember, Mr. Cent threw a hip-hop hissy fit when out popstar Rufus Wainwright joked that he just knew 50 was gay and would like nothing more than to invite him over for a hot and bothered night chez Wainright. Or something along those lines.
And that's when 50 took to Twitter to ef and tell, grossing us out with gems like this: "Ok look I hurt my neck having rough sex. I haven't been my self lately. Lol"
And that's a tame one, trust.
Sure, we can be as open-minded as the next homeboy (or girl), but until 50 Cent and other stars on the scene drop the homophobic crap and realize that being gay doesn't have to hurt your street cred, the rap community is going to stay trapped in the closet—and that's not an R.Kelly quote. Don't even get us started on his sex life.
At least we've got gals like Nicki to help get the closet door open—even if it's just an itty, bitty bit. As she would say, That's fetch. Don't you think?
http://uk.eonline.com/uberblog/the_awful_truth/b212657_nicki_minaj_of_course_well_see_gay.html#ixzz16DzANCVK