"We could give you a hundred reasons why you should be at Cielo for
Freedom on Sunday 6th. Instead we just need to give you one: Junior
Vasquez. A dance icon that's been at the forefront of the New York club
culture since the '80s, he's amassed more hits and chart topping
remixes on the Billboard Club chart then any other. Never one to
disappoint, Vasquez's epic sets are an adrenaline inducing energized
mix of the new, the old, and the extraordinary, that is
quintessentially Junior."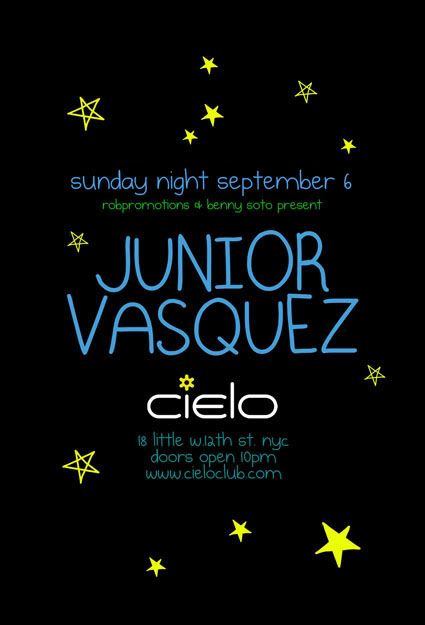 Sunday Night Sept 6th

Benny Soto & Robpromotions Present

Junior Vasquez

Doors Open at 10pm

USE KING RALPHYS GUESTLIST FOR REDUCED ENTRY XO

Cielo
18 Little W.12th St. NYC
www.cieloclub.com
CLICK HERE FOR FREE SETS FROM JUNIOR, JONATHAN PETERS & HONEY DIJON
WWW.KINGRALPHY.COM